Hotel WiFi software for easy guest WiFi control
Hotel WiFi
Create a free or paid Hotel Internet access, integrate with Hotel PMS software to automate guest login with room and name, engage guests with advertisements, collect surveys and understand what you can do better to improve guest satisfaction.
Hotel WiFi is a robust and cost effective solution suitable for any hospitality deployment. It controls user Internet access, sets limits, processes payments, engages users, provides powerful analytics and helps you run different marketing strategies to maximize revenue from your hotel WiFi.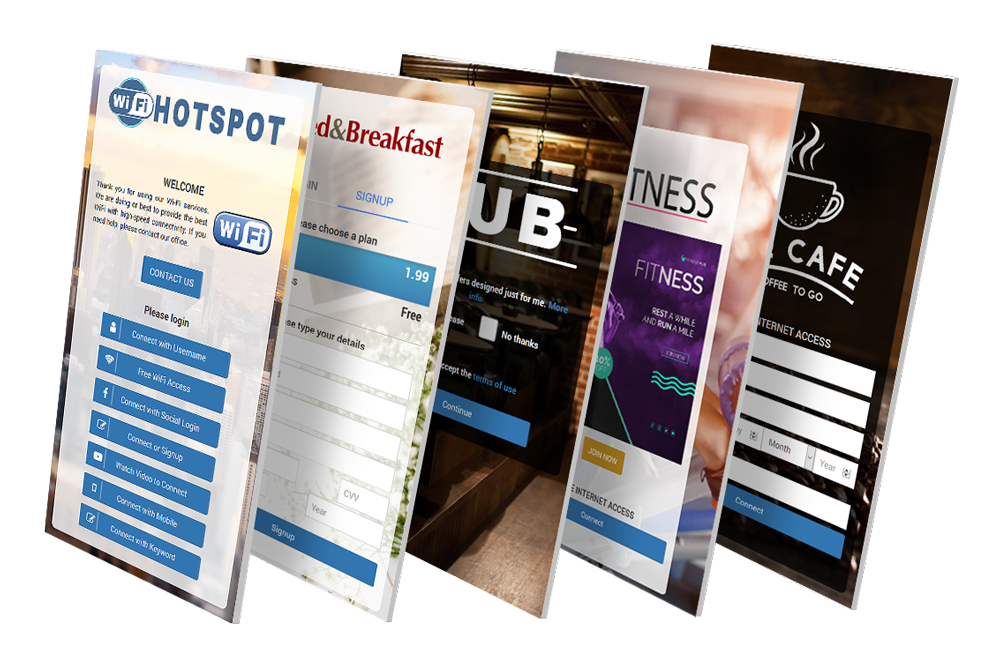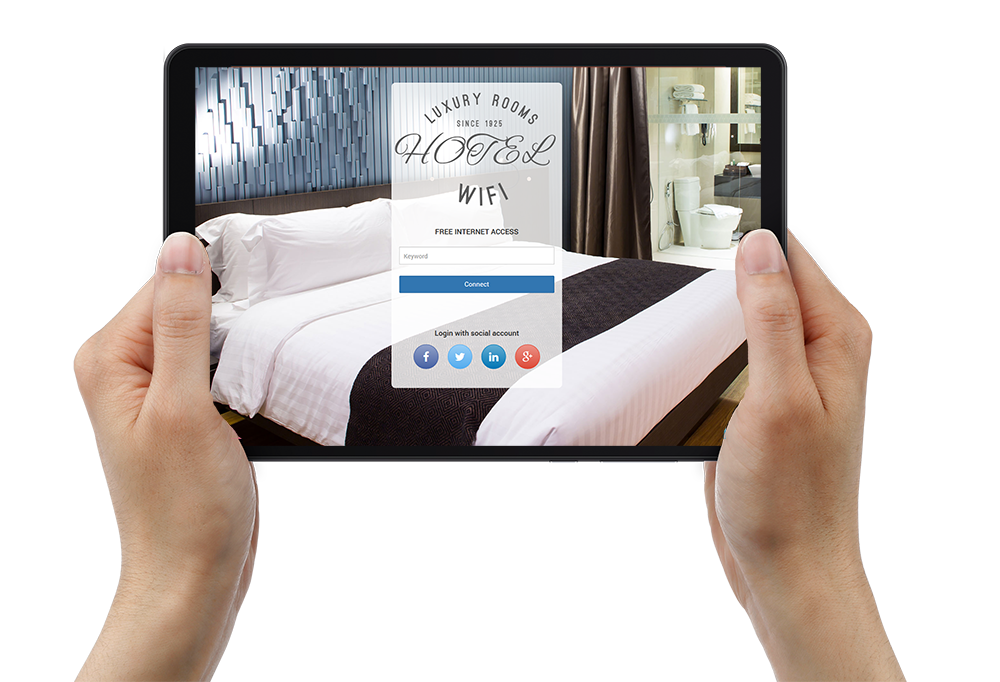 Hotel WiFi solution needs to be great – as your guests expect it.
A fast and reliable WiFi network with uninterrupted wireless coverage over the entire facility is just a starting point to satisfy guests.
Take your WiFi to the next-level and improve quality of the Internet service, guest satisfaction and overall Hotel review rating.
Variety of login methods, suitable for multiple guests's devices, will make your guests happy.
You can rest assured that their Internet access is well controlled
How can you improve Hotel Internet?
Provide free Hotel Internet and paid tiered plans to monetize on high-speed Internet access

Integrate with PMS (Opera, Protel, IDS…) to simplify and automate guest login with name and room number

Show video ads on splash pages in exchange for complimentary Internet access. Promote services like SPA and restaurants

Allow guests to use multiple devices (laptops, tablets, smart phones) under the same shared account

Create different splash (login) pages for lobby, restaurant, rooms, and combine free and paid access

Easily create prepaid accounts or voucher tickets for walk-in guests

Limit connections with number of devices, daily limits on download, time, data

Protect from potential criminal activity by tracking guest web activity

Isolate guest devices to prevent multiple devices communicating and malicious attacks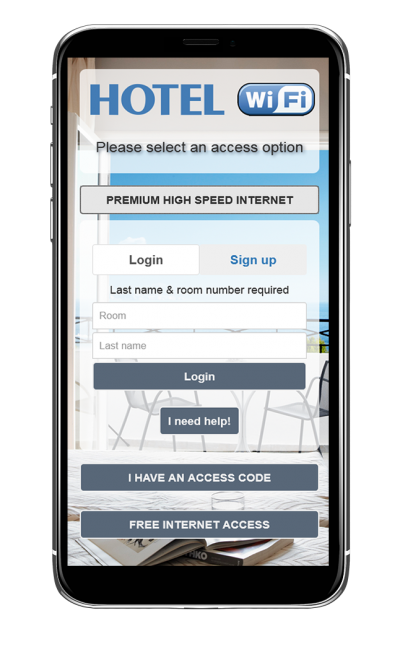 Post Charges to the Guest Room PMS
Integrate Hotel WiFi with your PMS system (Opera and 30+ other systems) and automate billing for your guests.
Customer chooses username, password, price plan (like 7 days Internet) and confirms the identity with a room number and personal details.
If successful, Internet is enabled and payment is added on provided room number, and customer will see this charge in your PMS.
System can be configured to provide free access (no charge), to apply complimentary plan to member or loyalty guests, or provide list of available plans so user can choose and pay.
When your guests connect to the Hotel WiFi, a nicely designed splash page will appear on their device.
You can easily customize splash page with logo, background and colors, and decide how your guests will start their session.
The splash page can be configured to offer free Internet, high-speed paid access, collect email and customer data, login with social network account, show video advertisements. One of the most important features is integration with PMS – a guest can login with the room and name after check-in.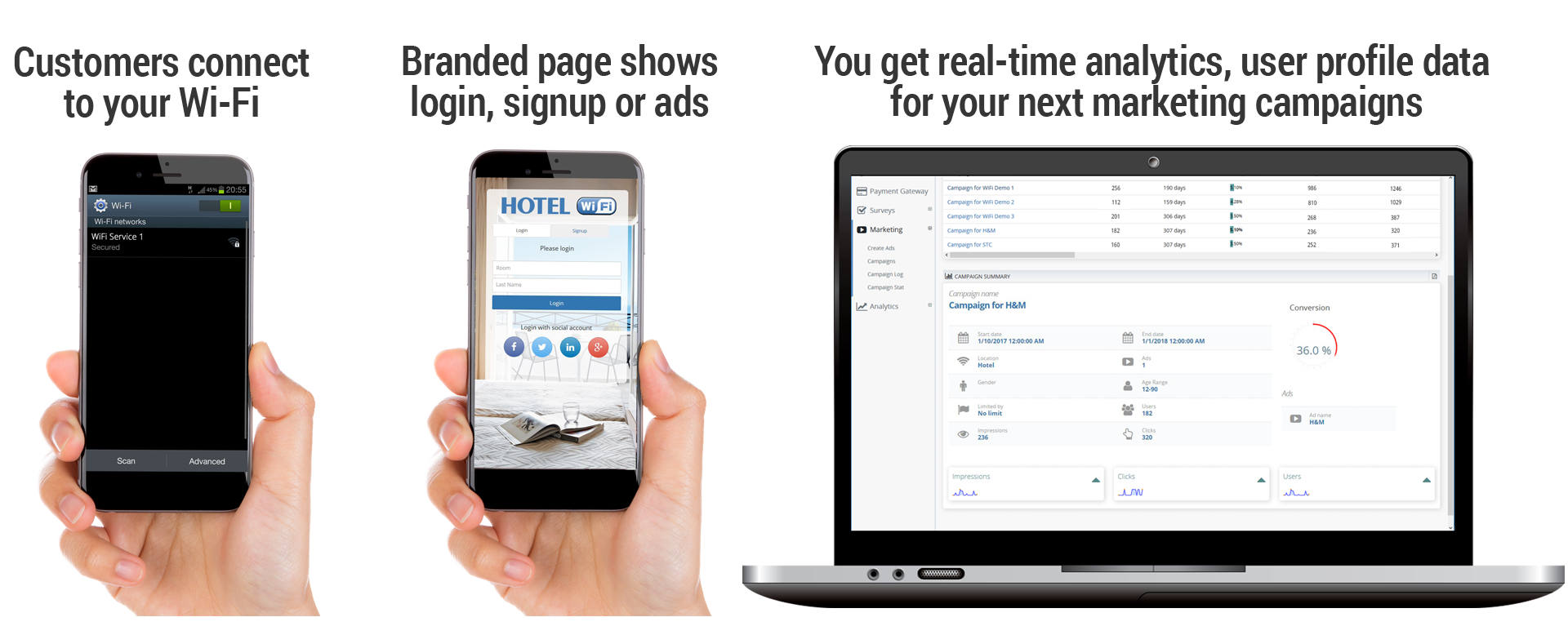 Once logged-in, guest may be redirected to the welcome page, hotel website or promotion page. The guest may be limited with download and upload speed, available bandwidth transfer, time to use your service, expiration, and limit access to one or multiple devices.
That provides good WiFi experience for all your guests, and prevents one user taking most of the bandwith for hi-def video streaming.
Top Cloud Hotel WiFi Features
Each WiFi location or business venue may have different branding and Internet access limits. Collect user data on one location, bill high-speed access for another, or display video ads for Internet access.
During signup, guest can choose an Internet plan which can be free or paid. Free complimentary access comes with lower download and upload speeds.
Engage WiFi users with video or image ads. Location based video ads acounts for the best engagement motivators with high conversion rate.
Social network WiFI access is the quick and easy way tp collect emails and names of your customers and use it for marketing campaigns.
Customer survey is a great tool for collecting guest data, opinions and reviews, which can be used for marketing purposes and improving your service.
DNS Server is used to implement Web Content Filtering engine that can easily block unwanted websites from being accessed on your Wi-Fi.
Great Hotel WiFi Analytics
Hotel WiFi solution will help you to promote hotel amenities, offer high-speed paid Internet access, and collect guest surveys – so that you can get real-time feedback and use it to increase your rank on TripAdvisor and Booking.com.
Analytics reports include demographics, bandwidth usage, session statistics, unique and repeat visitors per hotel, loyalty report and more.
In-use by major hotel chains for more than a decade, our Hotel WiFi solution is the only high-performace Windows based solution available. We are the only company that can offer both Cloud WiFi and On-Premise Server based Hotspot solution worldwide.
Your server running software

Server required with 2 network cards

Controls connected network (like hotel)

Each network requires separate server

Hardware: Any access-point

Exclusive on-premise private use
Cloud platform managed by us

No initial hardware cost (except routers)

Subscription (monthly payment)

Controls any connected router

Worldwide deployment, easily scalable

Hardware: Routers with Radius support

Centralized management and updates